Lost Watch Trail
Below is a view of the graphic side of the map followed by the description located on the back of the map. This trail is provided as an example of all the trails detailed on the map.
Graphic side of map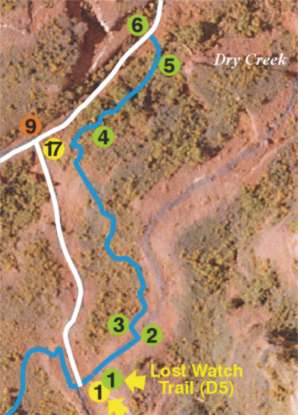 Trail description side of map

This quick little connector trail is fun and fairly easy. This trail connects Deadman's Pass to the Cockscomb. From the "Y" head west on Hwy 89A to Dry Creek Road. Turn right at the stoplight. Turn right onto a dirt road at sign displaying "Vultee Arch 5 miles." Look for a parking area about 50 yards down road.
(1). [0 miles] Parking area. Start on dirt road towards Vultee Arch (east).
(2). [.2 mi.] Trail head. Turn left (north) onto old jeep road.
(3). [.25 mi.] Slick Rock. Turn right to small loop in dirt road. Continue straight through the loop onto single track (northeast).
(4). [1.2 mi.] Trail splits. Stay right on main trail (north).
(5). [1.3 mi.] Stream bed. After small wash, hike-a-bike straight across stream bed (north).
(6). [1.4 mi.] Long Canyon Road (paved). Turn right (northeast) onto paved road an additional .2 miles to Long Canyon Trail. Turn left into parking area. Refer to #10 on Deadman's Pass Trail. Total distance: 1.6 miles.